Our Mulches… prevent weeds, retains moisture and are aesthetically pleasing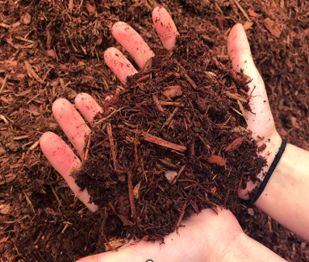 At Cambridge Garden Centre, we have high quality garden mulch that can protect plant roots during harsh winter weather, retain moisture during hot summer days, inhibit weed germination and, depending on which type you use, can also give your garden a boost of nutrients as it breaks down.
A selection of natural and naturally-dyed mulches are available so that you can select the colour and texture that will best suit your property and desired look.
Need help? Come to the Garden Centre to see the mulches in person, and our knowledgeable staff can help you make your decision!
Our Naturally Dyed Mulches…
NOTE: OUR NATURALLY-DYED MULCHES ARE NON-TOXIC, ASSIST IN PREVENTING WEEDS AND ARE SOLD IN A VARIETY OF VIBRANT COLOURS.