Our Gravel is… useful under pavers, good for drainage and compaction & available for decorative options.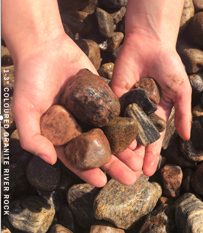 Gravel is a loose aggregation of small, variously sized fragments of rocks. It has a wide range of applications in the construction and gardening industry. Gravel can be used along with pebbles as a form of render known as pebble dash and is textured to create a rough finish.
Gravel is commonly used for landscaping applications, such as on driveways, walkways, or as a decorative filler over soil instead of grass.
At Cambridge Garden Centre, we have high quality gravel- aggregate material available at competitive pricing.
Yard Stock- Drainage And/Or Compaction
Yard Stock- Gravel For Drainage
Yard Stock- Gravel For Compaction
(PLEASE NOTIFY OUR OFFICE EITHER BY PHONE, EMAIL OR BY FILLING OUT OUR INQUIRY BOX BELOW IF YOU ARE INTERESTED IN ANY OF THE PRODUCTS LISTED).